Today's trucks and SUVs are shaped like today's cars — from a front view. The fenders and cab are contouring the wheels. The tires are getting larger and wider, but are still straight up and down, therefore throwing whatever is in its tread (water, rocks, mud) on your paint. Not to mention, it's also throwing whatever is in its tread on your trailers, boat and drivers behind you. Most of Ultimate Flaps' rear flaps are 14 inches wide, covering 12.5 inch tires perfectly.
Ultimate Flaps are built using a 3/8 inch thick polyethylene material with textures on the outside surface and a smooth, grooved inside surface that channels mud, snow and water down and away from your vehicle. Our polyethylene material stays flexible to 42 degrees F below zero and remains rigid, but flexible, and never limp like rubber flaps.
Look at how many pickups have one rubber mud flap; they are torn off by backing up into snow or brush. The flaps get pushed into the tires, which leads to the flaps getting torn off – particularly with chains. Ultimate Flaps' material keeps the flaps away from the tires. Occasionally, pressure pushes the flaps into the tires, which creates a loud noise that reverberates throughout the cab, notifying the driver of contact. This is usually harmless.
Contoured plastic OEM and other mud flaps work well for base level pickups with small tires. Leveled or lifted trucks with larger tires, offset wheels, and contoured flaps are left with rock chips in the paint, unless you never leave the pavement.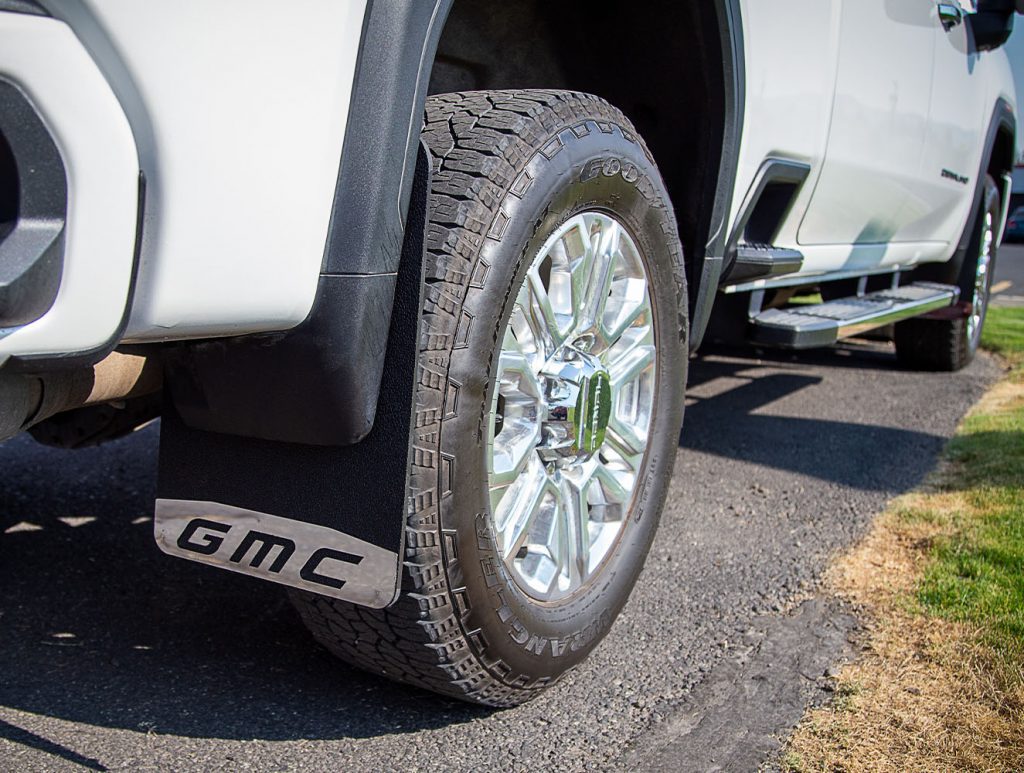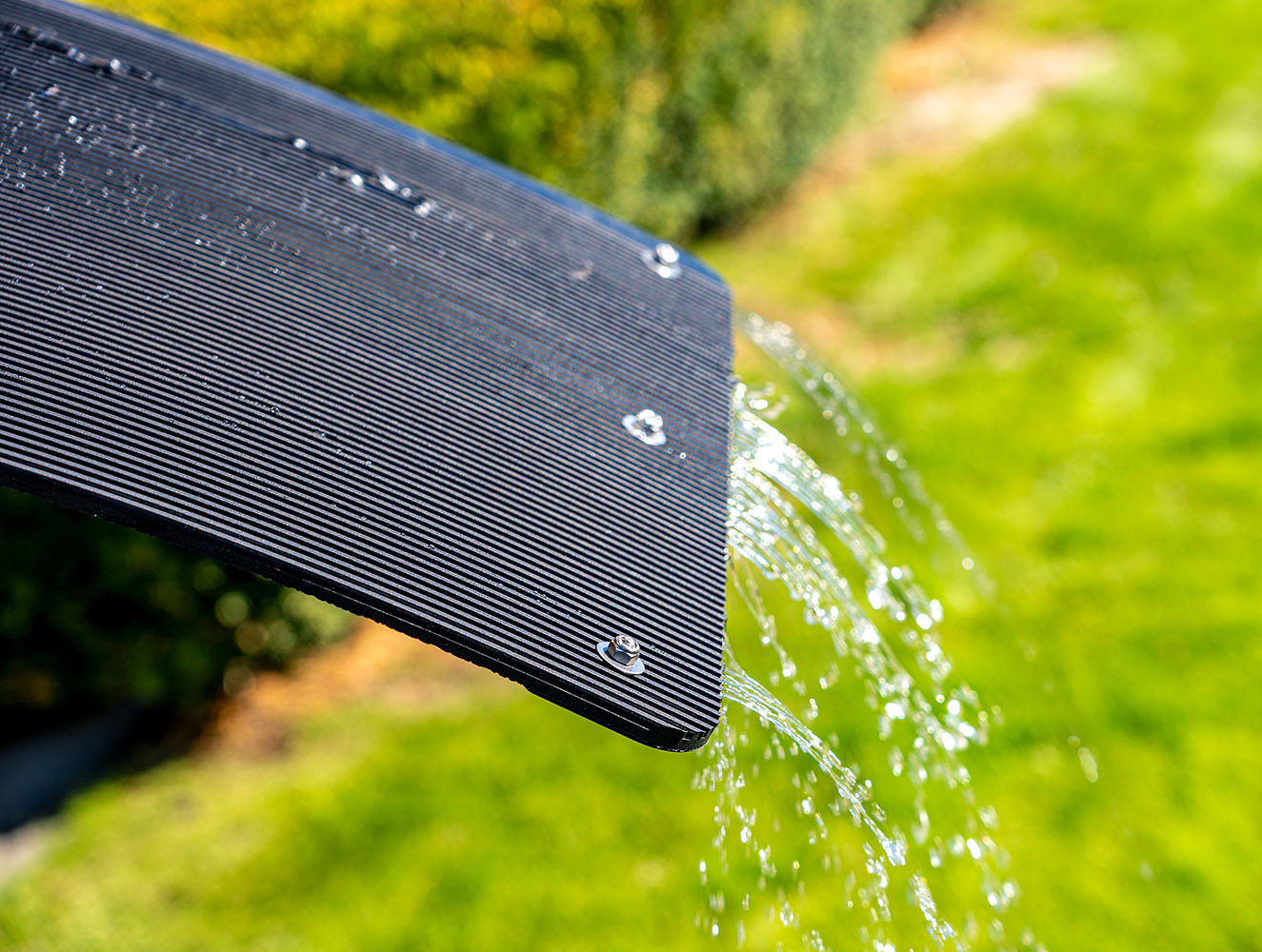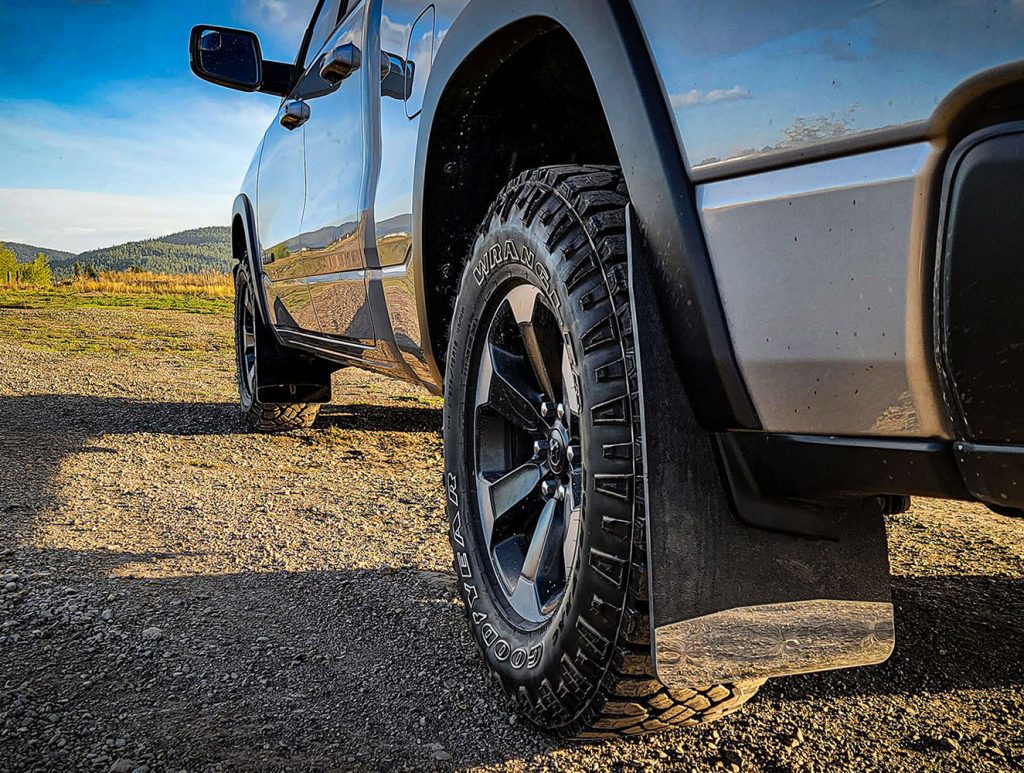 We manufacture our own line of lifetime-warranted mud flaps called Ultimate Flaps. Today, driving around our area of the Inland Northwest, it is easy to see our product on pickups. If you have larger tires, offset wheels and small contoured mud flaps, chances are you will have mud splatter on your paint — not to mention rock chips. Ultimate Flaps are built using nearly indestructible polyethylene, 304 stainless steel weights on trim plates and stainless steel brackets when necessary. Our stainless steel hardware even includes studs welded to our weights. We now offer all of our stainless weights and trim plates in powder coated black. Our custom laser-cut weights in black are discrete and growing in sales.
Many of our Ultimate Flaps applications have no drill installations that use existing hardware for stock applications and offer superior protection for both the front and rear. Just remove 2–4 screws on each mud flap, put ours up, level and secure. They have a lifetime warranty and work particularly well with pickups and sport utilities with fender flares. Installation of mud flaps with fender flares requires attaching the mud flap to the sheet metal of the fender, inches away from the fender or bed. Our rigid, but flexible, material has enough structural integrity to always stay tight against the fender flare. This allows for a very functional set up, much like some higher end sport utility setups that come from the factory.
Made In USA
Ultimate Flaps are manufactured in the USA.
Free Shipping
Offering free shipping on all products.
Lifetime Warranty
We manufacture warranted mud flaps.